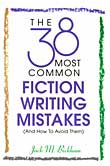 I have just read a superb book called, THE 38 MOST COMMON FICTION WRITING MISTAKES (And How To Avoid Them), by Jack M. Bickham.

Some of you are probably quite cynical about books on how to succeed at creative writing! However, this one sets aspiring novelists an excellent example in being clear, concise, informative and written with genuine interest in the reader.

The predictable format of thirty-eight chapters consists typically of three pages on each potential error. Naturally, Character, Conflict, Point of View etc are all covered in this worthy tome. Psychological aspects of fiction writing are also discussed, such as: Dont Hide From Your Feelings and Dont Criticise Yourself To Death.

I particularly liked the books structure as it enabled me to read about the most relevant pitfalls, in any order, without needing to build a sequential understanding of the whole material. This slim volume is both useful and enjoyable; especially if you prefer to read in short bursts and want to identify weak areas in your creative writing, quickly and without the palaver of reading a manual of epic proportions.

THE 38 MOST COMMON FICTION WRITING MISTAKES receives four stars out of five from me.